Insurance Broker in Toronto
Insurance can be a complicated topic, but it's important to know what coverage you need. Our insurance brokers in Toronto, Ontario will help make sure that your individual needs are met with the right policy at an affordable price – all while making insurance buying easier than ever before!
We will help you find lower rates on your policy and make sure that they meet what's best suited towards your requirement. When you work with Canadian LIC, you will have access to a variety of insurance plans & expert knowledge to choose the right insurance plan for you.
We will compare and offer you the most affordable quotes for you. If you are looking for a quote form a trusted insurance company in Canada, get in touch with us today for great service.
At Canadian LIC, we have licensed Insurance Brokers in Toronto, Ontario who can:

Help you with assessing and managing your risks.
Offer advice on insurance solutions that fit your needs.
Help you find the plans best suited with appropriate planning.
Act as your representative in settlement of any claim that may be made by you
Looking for a new policy form a insurance company or want to talk to a insurance broker in Toronto, contact Canadian LIC for a no obligation quote now.
Here's a list of insurance policies that we offer for our clients:
Critical Illness Insurance plan gives you a one-time, lump sum payout up to the limit of policy. This is to help make sure your family can continue to meet financial obligations if one of the sources of income is lost due to a critical illness or surgery. Get in touch an insurance broker at Canadian LIC and compare quotes.
Learn More about Critical Illness Insurance
A disability insurance plan is a way to replace a portion of your income should you find you are unable to work due to a disability. No one ever knows when they're going to become disabled nor do we know what will cause it, but this kind of plan is designed specifically to help you despite all the uncertainty you may be facing during this time to cover your minimum payments & Daily expenses. Get in touch with one of our insurance broker for a quick quote.
Learn More about Disability Insurance
Mortgage insurance is a type of policy that protects the family or policy holder. This plan protects you financially in the event you cannot make your mortgage payments mark sickness or Injury so you do not default and can protect your credit score or worst in case of Death mortgage would be paid off. Want to talk to a professional insurance broker in Toronto, call us now!
Learn More about Mortgage Insurance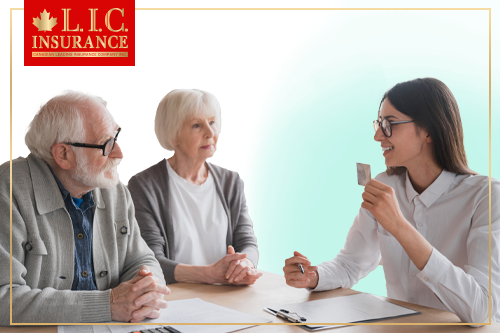 Loan protection insurance is a policy that helps a policyholder financially in times of need. If you are unable to pay your loan due to illness or due to an accident that has led to disability. By investing in this plan , you can help pay for your monthly loan and protect yourself from being tagged as a defaulter and protect your Credit. Limits are up to 5000 for personal expenses and $5000 for business expenses. Talk to a professional insurance broker in Toronto, call us now!
Learn More about Loan Protection Insurance
When you are applying for international student health insurance, you should know that Canadian healthcare rules and regulations differ from province to province. International students do not get Health Cards, this student plan covers them all. Get quick quote form a Canadian insurance company.
Learn More about International Student Insurance
Our business insurance includes:
No matter the nature or size of your business, we can work with you to offer you the business insurance to protect your business.
Key person insurance is a life insurance on the person who runs the company or is an integral part of it. If you are running a small business, which entirely depends on a key person, it is important that you get him insured. Call now to talk with one of our insurance broker.
Learn More about Key Person Insurance
Group insurance plan provides better coverage and ensures that the physical, mental and financial health of your insured employees are taken care of. It also provides you with a peace of mind and reassures your employees. It also provides cover to family members of employees. This helps employers by keeping talent employed. Our Toronto insurance brokers provide a variety of services including renewal quotes.
Learn More about Group Insurance
The term life plans offer the least expensive and simplest type of life insurance you can find. Whether you need something immediately or are thinking for the future, term life insurance gives you a variety of opportunities to make sure you're always covered no matter what you choose from 10 yrs, 20yrs or 30yrs or pick a Term. Call now to talk with one of our insurance broker.
Learn More about Term Life Insurance
Whole life insurance is the permanent life insurance policy and paid out to a beneficiary or beneficiaries upon the policyholder's death, provided that the premium payments were maintained. Whole life insurance coverage pays a death benefit, but also has a savings component in which cash can build up, which can be taken out if needed.
Learn More about Whole Life Insurance
As a holder of a universal life insurance you have options on the terms of the contract you sign. You can select a policy that allows you to take a loan against the cash value the policy has accumulated. You can also, potentially, withdraw some or all of the cash value of the policy. Contact us today to compare quotes.
Learn More about Universal Life Insurance
If you are wondering, what happens to the premium for your life insurance plan if you survive the whole term, well, you will be pleased to know that both Whole Life Insurance and Universal Life Insurance have a built-in cash value. This comes under the money-back life policy and you can get it back.
Learn More about Money-back Life Insurance
Super visa insurance provides medical insurance coverage for parents and grandparents of permanent Canadian citizens and residents. Super visa insurance typically covers: Emergency medical. Hospital care. Emergency dental care. Contact the insurance professional at Canadian LIC for a quick quote.
Learn More about Super Visa Insurance
A buy and sell agreement is a legally binding agreement between co-owners or business shareholders. In case one of the co-owner dies or decides to leave the business, the surviving partner can buy the remaining shares of the business.
Learn More about Buy-sell Agreement
Insurance plays a very important role in estate planning. Estate planning also provides financial stability for your dependents and family members. It can also be used to pay taxes, fees or clear any debts.
Learn More about Estate Planning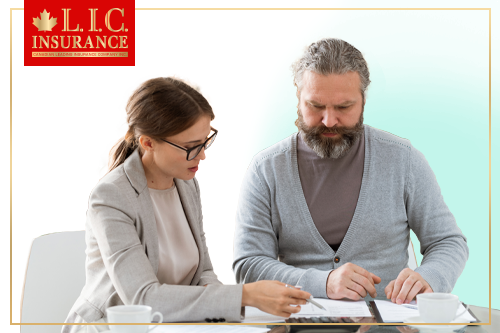 What can you expect from our insurance brokers in Toronto?
Free consultation – We are a certified Insurance Broker. You can get all types of Insurance Services and Investment services from Canadian L.I.C. If you would like to speak with one of our registered insurance brokers in Toronto, Ontario just submit your details or email us. We will get in touch with you soon.
Simple and fast services – Our brokers are here to ensure that you get the services you need as soon as possible. They will be there to answer all your queries and share their knowledge of the market with you.
Consistency – You can rest assured that we will be consistent in providing you with quality services and expert advice. We will work hard to maintain the same efficiency every time to ensure you get the services you need.
Why choose Canadian LIC insurance brokerage?
Here are some of the reasons why should be your go-to, Canadian LIC insurance brokers when it comes to find the appropriate option:
Knowledge – If you are not familiar with all the insurance options available on the market or are unable to do the research required, then and we can help. Our knowledge about the various options, prices, terms and conditions, benefits, liabilities and exclusions regarding various types of policies can help you narrow down the policies and packages most suitable for you. This way, you can focus on your other commitments and not spend much time researching.
Customization – Our experienced brokers can help you find a plan that can best fit all your requirements and relevant current circumstances while covering all your risks. This can help you assess the best plan for you, be it life, health or even travel insurance or investment
Experience – We do not just have in-depth knowledge of the market but also enough knowledge on market trends and general customer requirements. This allows us to predict, quite accurately, the options that are favorable to our customers. Our knowledge about the terms and conditions, prices, benefits, exclusions and liabilities, and how these parameters have changed and can change will help you narrow down your options.
Representation – When making an insurance claim, we can represent you and liaise with the insurance provider and loss adjuster on your behalf. With our in-depth knowledge about various insurance products and services, we will be there to assist you when making claims.
Reliability – Reliability is an important factor to consider when you are choosing an insurance policy. During emergencies, it is important that you get the security you need from your plan to avoid unexpected costs and loss. As a professional insurance broker in Toronto, Ontario, we can help you find a reliable insurance provider who can provide you with the security you need, be it through a life insurance or medical insurance.
Reasonable prices – Depending on the type of plan you are purchasing, brokers may receive their remuneration from the insurance provider chosen by their customers. For long-term insurance, brokers may offer advice on a fee basis. This means that you don't really need to worry about the prices if you make most of the advice provided to you.
How insurance brokers in Toronto can help you get the right quote?
Our insurance broker is essentially an intermediary between you and an insurance provider. With an in-depth knowledge of your requirements and the products and services available on the market, they will help you find a plan that is most appropriate to your financial needs.
Our professional insurance brokers, not just sells, but also solicits and negotiates insurance plans on your behalf. A broker also works independently, which in turn allows them to offer you a variety of options for insurance products and services.
They take up the higher responsibility of helping you find the best financial product that best suits your needs.
If you are looking to get a new insurance plan or to ensure that the policy you currently have best suits your interests, then you should consider consulting Canadian L.I.C in registered insurance brokerage. Our professional brokers can help you find the best insurance products and services in Toronto, Ontario. Give us a phone call today!
What services do insurance brokers offer?
Insurance brokers can offer you a variety of services. Some of them include:
Compare prices and help with selecting and arranging customized insurance policies and packages.
Providing detailed technical expertise, including knowledge of prices, terms and conditions, benefits and pitfalls of the wide range of insurance policies available on the market.
Assisting in interpreting, arranging and completing insurance documentation.
Identifying, predicting, managing and reducing your individual or business risks.
Negotiating a suitable policy with the insurance provider of your choice.
Representing you for claims and settlements with the insurance company
Helping with premium funding and risk management reviews.
Why is an insurance policy important?
Every one of us wishes to enjoy financial freedom at some point in our lives. Most of us assume that our savings are more than enough for us to be financially stable. But if you are a pragmatic individual and look at life in a practical sense, you would know that your savings alone is not enough to attain financial freedom. Ensuring your assets are insured with an insurance plan is equally important as well.
However, a few individuals believe they do not require an insurance plan as they can save money on replacing the asset or tap into their savings should anything unfortunate happen to them. But do you want to use your hard-earned savings to pay off your medical bills or damage that has occurred to your property?
Purchasing an insurance policy offers you much-needed financial security and, most importantly, peace of mind. No amount of money can replace your sanity and peace of mind. So, when you have an insurance policy that secures you from any unfortunate event in life, you can be stress-free about it as you are covered. To summarize, getting an insurance policy is important, and with the convenience of experts like Canadian L.I.C, you can easily purchase insurance to secure the needs of you and your family, including your assets as well.
Rest assured, you can achieve peace of mind and financial freedom with us. Our highly experienced and professional insurance brokers in Toronto will help you clearly understand the policy's coverage, exclusions, and terminologies.
Eligibility criteria
Based on the type of insurance plan you are purchasing; insurance companies will sell a plan based on information such as:
Gender of the client
Age of the client
Medical history of the client in the case of life or disability insurance
If the client has made any previous claims
The coverage amount the client is requesting
Before providing you with the insurance plan, insurance companies will consider the risk of insuring you and assess your eligibility by undertaking an underwriting process. The underwriting process will make sure:
How much coverage the insurance firm will provide
The premium you will need to pay
Regardless of the insurance plan, you wish to purchase; you must ensure to answer all the questions in your application truthfully. If you are dishonest:
There is a high chance your policy application will get cancelled
Any future claims you make could be rejected
You may not be able to get an insurance policy from any company in the future
Contact the trusted insurance broker in Toronto, Canadian L.I.C today for further information on insurance policies or to schedule an appointment.