Our insurance brokers in Markham will help you save a lot of money
Compare several insurance policies quotes with the help of our experienced insurance brokers at Canadian LIC to help make a well-informed decision. Contact our team today to schedule an appointment.
Markham's trusted insurance brokers.
Our insurance brokers in Markham will help you save money on your insurance plan. Markham, like other metropolitan cities in the country, is expensive to reside in. Having an insurance plan helps alleviate your financial stress in the event of an unfortunate event. Our insurance brokers have the necessary resources to help clients find the best plans at the lowest available rates. It can be nerve-wracking for people to understand the various terminologies, policies, and coverage of an insurance plan. Additionally, choosing the right insurer can prove to be quite a daunting task as well. When you choose to work with the trusted insurance brokers in Markham – Canadian LIC, you can rest assured; that you will be getting access to expert knowledge, including a wide range of insurance options. You can sit back and relax while we do all the heavy lifting by comparing all possible reasonably priced quotes to help you save money. Here at Canadian LIC, you have access to insurance brokers that are licensed and professional. We will look after your best interests and acquire the best insurance plan for you at the lowest rates possible. Give our team a call today to find out more details.
What does an insurance broker do?
An insurance broker is a professional that represents the customer solely. The main job of a broker is to help the customer identify the right insurance plan that meets your specific requirements. Keep in mind that an insurance broker works for the customer and not the insurance company. They are your trusted confidant and use their knowledge and experience to evaluate your options. They shop around and compare quotes and find the best rates and value for the customer. In addition to an insurance broker identifying the best insurance plans, they also answer any insurance-related questions that you may have and provide clarity as well as help you with any insurance claims.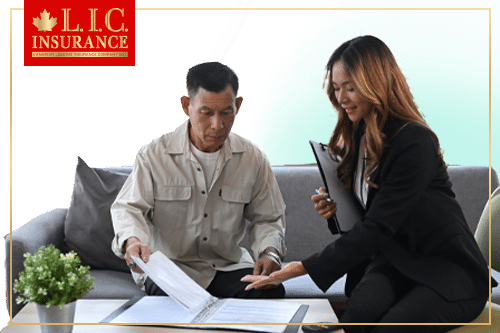 There are numerous pros to using an insurance broker in Markham. Below-mentioned is some of them:
An insurance broker works only for you: An insurance broker works only for the client and not the insurance provider. An insurance agent, on the other hand, works directly for the insurance provider and sells only their insurance products.
A comprehensive selection: Unlike an insurance agent, an insurance broker has sound relationships with several insurance providers, hence offering customers several options to choose from.
Professional advice and service: Our insurance brokers in Markham are licensed professionals and have the expert knowledge to help with all your insurance needs, claims, and much more.
Competitively priced services: You can say that services offered by our insurance brokers are invaluable but also competitively priced.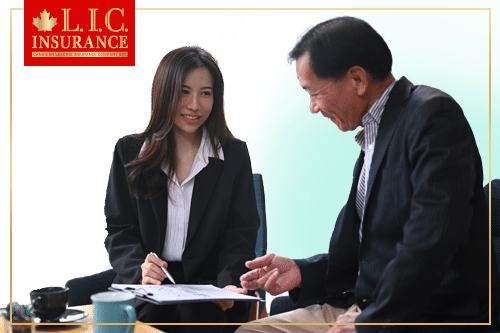 Customer-centred approach: As mentioned earlier, an insurance broker works solely for the customer, and an insurance agent works for the insurance company they represent.
Offer several policy options: Unlike an insurance agent, an insurance broker has sound relationships with several insurance providers, hence offering customers several options to choose from.
Unbiased and professional advice:Insurance brokers provide advice that is unbiased and professional. An insurance agent tends to have a bias toward the insurance provider they represent.
Licensed individuals: All our insurance brokers at Canadian LIC are licensed by the Financial Services Regulatory Authority of Ontario (FSRA). They strive to maintain a top-quality level of competence and professionalism.
With years of experience in the insurance business, we have helped countless customers with their insurance needs by helping them choose the right plan at the most affordable rates. Below-mentioned is some reasons why you should choose the insurance brokers at Canadian LIC:
Markham's reliable insurance brokers: Based in Ontario, Canadian LIC uses progressive techniques to make the insurance buying process simple for their customers.
Independent insurance brokers:We do not represent a particular insurance company in Markham; hence we provide customers with unbiased advice.
Fully licensed professionals :All our insurance brokers at Canadian LIC are part of the Financial Services Regulatory Authority of Ontario (FSRA).
Leading insurance broker in the Markham region: We pride ourselves on being an industry leader and helping customers choose the best insurance policy to match their needs and budget.
Compare and shop: With us, you have the freedom to compare various insurance quotes on all types of insurance from leading insurance providers in the Markham region.
Lowest rates guaranteed: Choosing us as your insurance brokers can help you save hundreds of dollars. We can help identify the best rates and discounts to significantly lower your premium.
Dedicated insurance brokers: Our insurance brokers at Canadian LIC clearly understand the challenges and needs of their clients by providing them with personalized service. We also help clients with their claims, queries, and much more.
Our insurance brokers genuinely want to help you: Our insurance brokers are dedicated to helping customers achieve their insurance goals. They understand the insurance market clearly and work diligently to make sure they choose the right insurance plan.
Have sound relationships with several insurance companies: We partner with several leading insurance companies in Toronto to help our customers get the best insurance rates. Due to this, we have built a strong reputation.
We serve both household Family Market and Business & Commercial clients when it comes to insurance plans. Give us a call whether you're looking for a term life coverage or a millions-of-dollars of policy. We have been providing various types of insurance policies for years, have a look.
Everyone is entitled to have their custom insurance plan. As the main decision-maker for your family, you want to be aware of the various insurance options. Below-mentioned is some personal insurance policies to protect your assets, the financial stability of your dear ones, and how to safely mitigate your risk.
A Critical Illness Insurance policy gives the policyholder a one-time, lump-sum pay-out up to the policy's limit. This insurance plan is designed to ensure your loved one can continue to meet certain financial obligations if the main income source holder suffers from a critical illness or surgery.
Learn More about Critical Illness Insurance
Is your disability hindered you from working? Do not worry; a Disability Insurance policy is a substitute for a portion of your income. Life is uncertain, and we cannot predict what act of life can leave us disabled and unemployed. This insurance plan is designed to help individuals through all the uncertainty they may be facing this time by covering their minimum payments and daily expenses.
Learn More about Disability Insurance
Protect yourself and your loved ones with a Mortgage Insurance policy. If you fail to you're your scheduled monthly mortgage repayments due to a sickness or injury, this insurance policy protects you financially and prevents you from defaulting, thus protecting your credit score.
Learn More about Mortgage Insurance
Are you unable to pay your loan due to illness or injury that has left you temporarily or permanently disabled? By purchasing Loan Protection Insurance, you can pay your monthly loan and safeguard yourself from defaulting and protect your credit. The limit for personal and business expenses is up to $5000 & $5000.
Learn More about Loan Protection Insurance
Keep in mind when applying for International Student Health Insurance, the rules and regulations for healthcare vary from province to province. International students are not eligible for a Health Card; this insurance plan covers them all.
Learn More about International Student Insurance
Key Person Insurance is a life insurance plan for those individuals who run a business or are an important part of it. If you are a small business owner, you can apply for this insurance policy.
Learn More about Key Person Insurance
The insurance needs of every business are different as it is based on certain challenges and specific requirements. At Canadian LIC, we provide customized business insurance plans for clients across Markham that are guaranteed to benefit your business needs. Below-mentioned is some of the business insurance plans we specialize in:
TThis insurance policy looks after the mental, physical, as well as the financial health of the employees. Additionally, this plan also provides cover to the employee's family members. For more information about our Group Insurance plans, please do hesitate to contact our insurance brokers in Markham today.
Learn More about Group Insurance
This policy is a legally binding agreement between shareholders or co-owners. In the event one of the co-owner dies or chooses to leave the company, the surviving partner/s have the option to purchase the businesses remaining shares.
Learn More about Buy-Sell Agreement
Life insurance plays a very crucial role in Estate Planning. Additionally, it also provides financial stability for your dear ones. It can also be used to pay fees and certain taxes or clear any debts that you may have.
Learn More about Estate Planning
Term Life Insurance is one of the cheapest and simplest insurance policies that one can find. This insurance policy offers a wide range of coverage opportunities if you need something immediately or if you are considering the future. The plans vary from 10, 20, and 30 years.
Learn More about Term Life Insurance
This is an insurance plan which pays out to the beneficiary upon the policyholder's death. It is a Permanent Life Insurance plan that also has a savings component in which cash can be built up and taken out if required. The policyholder must ensure they don't skip out on making the premium payments.
Learn More about Whole Life Insurance

There are two options on the terms of the contract you sign. You either select a policy that gives you the option to take a loan against the cash value the policy has built up, or you can choose to withdraw some or all of the cash present in the policy.
Learn More about Universal Life Insurance

Have you ever wondered what happens to your life insurance premium if you happen to survive the entirety of the term? Well, you can have peace of mind knowing that money-back life insurance plans have a built-in cash value, which means you can get it back once the term expires.
Learn More about Money-Back Life Insurance
Are your parents or grandparents looking to visit your family in Canada? Then is mandatory for them to apply for super visa insurance. Our insurance brokers in Markham will take care of all their Super Visa Insurance needs. This insurance plan covers the emergency, medical care and hospital care needs of parents and grandparents of permanent residents and Canadian citizens.
Learn More about Super Visa Insurance

Schedule an appointment with the trusted insurance brokers in Markham today!
You can rely on our licensed and professional insurance brokers to help get you insured. We are focused on new market trends to serve your insurance needs better. With our experience and expertise, our insurance brokers can help you save a lot of money at a better rate. We will offer several options and compare various quotes from top insurance companies in Markham, including finding lower premiums to help you make a well-informed decision. To schedule an appointment or to request a free estimate, contact our team at Canadian LIC today.