Expert insurance brokers in Kitchener at your service
When you're looking for a Kitchener insurance broker, you would be looking for a team who not only has the knowledge and expertise to resolve all queries you may have but also will be there for you every step of the way and make sure your insurance requirements are met. Well, your search ends with Canadian LIC. We can help you choose the perfect insurance policy from the trusted insurance companies that's within your budget, affordable rate and covers your financial requirements. Our services are available to clients in Kitchener and the surrounding areas. Please schedule an appointment with us today for excellent service and the best coverage. We are one of the top insurance brokers in the city! If you are looking for the most trusted insurance companies, look no further than Canadian LIC.
Helping customers find the best insurance products
That has always been the aim of our insurance brokers! At Canadian LIC, we understand how difficult it is to choose life insurance. For someone who does not know much about the industry, it can be a challenging task to navigate through several pages of different types of policies, all stating that they will meet your requirements. Not to mention ensuring that you are paying the right amount for what you are getting and nothing extra. That's where our insurance brokers can help!
If you choose our team, what you will notice is that we will share all the necessary information regarding the policies that you are looking for. If you are confused about which option you should choose, our team can offer unbiased advice on the subject. However, the final say will always be yours. Your best interests will always be our top priority, and by the end of our primary meeting, you will have a clear idea of the ins and outs of a policy, so you can make a well-informed decision.
Flexible insurance policies tailored to your needs
One of the advantages of working with our team is that we can tailor policies as per your insurance requirements. With insurance policies, the one-size-fits-all concept doesn't work, and if you do purchase a ready-made policy, you may end up with some things in regards to the plan that you would never use, and you end up paying extra. We don't want that for you. On our first scheduled consultation, we will ask you numerous questions about what you are looking for in a policy and carefully note them down. Then our work would begin.
As one of the leading insurance brokers in Kitchener, we work with several insurance companies that are well-known in the market, and that gives us access to numerous insurance products. What we do then is select the plans that meet your requirements and then compare the rates that are within your budget. We will then present you with the selected portfolio of policies, and you can choose the ideal one. Our team will take care of all the paperwork, and once everything is done, all you have to do is sign on the dotted lines. For further details on how we will work with you, contact us today. Go ahead, and give us a call.
Alongside offering a professional service, what makes Canadian LIC a reliable insurance brokerage firm is our ever-expanded portfolio of insurance policies that we have to offer. Depending on what your financial needs are, we can help you select an option that will offer coverage for all the things that you are looking for. Have a look at the list of insurance policies that we have to offer.
These two insurance policies are among the most sought-after insurances amongst our clients. With Term Life Insurance, you will have the option to keep insurance coverage for up to 30-40 years, while with Whole Life Insurance (as the name states), you will have coverage for the entirety of your lifetime. Both insurance policies come with death benefits. However, the advantage of Whole Life Insurance over its counterpart is that with this policy, you also get a cash component that you can use as a savings vehicle.
Learn More about Term Life Insurance
Mortgage insurance can help you worry less about your monthly mortgage payments. With this policy in place, even if you miss a month on your mortgage, you will not have to stress as the insurance will make the payment on your behalf. You may miss your mortgage payment due to an unfortunate incident such as illness or an accident, but with Mortgage Insurance in place, the payment will always be made on time. For further details, contact Canadian LIC in Kitchener; we will be happy to help you.
Learn More about Mortgage Insurance
This is one of those policies that no one is comfortable talking about. However, it is important that you should know that if Critical Illness treatments are very expensive and if you or one of your dear ones has been diagnosed with a life-threatening condition, treatment costs can make a severe dent in your savings. If you have Critical Illness Insurance in place, then the insurance company will take care of the costs. Generally, almost all major diseases such as Cancer, Renal Problems, and Heart problems are covered under this policy. Canadian LIC is one of the best Critical Illness insurance brokers in the city.
Learn More about Critical Illness Insurance
If you, as a professional worker, cannot go to the office or do your work due to a disability, Disability insurance can help you and your family with monthly expenses. This policy works on top of your standard life insurance policy, and it can help you lead a standard lifestyle during difficult times.
Learn More about Disability Insurance
A Loan Protection Insurance is what it sounds like. The main objective of this policy is to protect you from being a defaulter while you pay off a loan. Emergencies do not come with a warning sign, and due to this, if you are not able to pay your monthly repayment once, the insurance company will take care of it.
Learn More about Loan Protection Insurance
If you are looking for an insurance policy and a savings vehicle at the same time, then the Universal Life Insurance policy is the perfect choice for you. Similar to Whole Life Insurance, it comes with lifetime coverage and also tax-favoured returns on non-registered assets. If you have any queries, get them resolved by our team at Canadian LIC.
Learn More about Universal Life Insurance
This is a widely popular insurance policy that ensures that the medical costs for your parents and grandparent (if they are non-native to Canada) would be taken care of. As they are coming from another country, they will not be covered under the free healthcare plan provided by Canada. With Super Visa Insurance, the treatment costs for any medical condition for your visiting parents/grandparents would be partially or fully covered by the insurance company.
Learn More about Super Visa Insurance
With most insurance policies, if you don't raise a request for a claim, the premium that you spend on the insurance will go to the insurance company. With Money-Back Life Insurance, you get a percentage of the sum assured at regular intervals. On top of that, you can choose your own terms and conditions and tailor the paperwork as per your needs.
Learn More about Money-back Life Insurance
Planning to study in Canada? If your answer is yes, it is mandatory for you to purchase this International Students' Insurance. It will act as your health insurance while you study here. You can contact our team at Canadian LIC in Kitchener for more details; we will be more than happy to help you.
Learn More about International Students' Insurance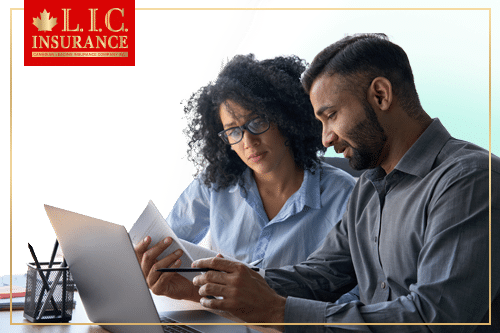 Trip cancellation, lost baggage, repatriation, medical treatment costs- almost everything is covered by this policy. Whether you're planning to visit Canada for work or just to travel across its beautiful landscape, purchasing travel insurance is a smart choice. Not only will you be able to travel stress-free, but also, you will have the knowledge that if something goes wrong, the regal insurance brokers will be there to protect you financially with Visitor Insurance or Travel Insurance.
Learn More about Visitor or Travel Insurance
For our business clients
The large list of insurance policies above is applicable for both business and Family market clients. However, you should know that we also specialize in brokering Corporate Insurance Policies. The list of policies below is exclusively for businesses that want to take care of their staff. Have a look.
With Key Person Insurance, your customers, stakeholders, and employees can be reassured that your business will still continue even after the loss of a key figure. The benefit received can be used to pay off loans and manage creditors too. Key Person Insurance sees to it that your daily operation keeps on running smoothly even after a key-business person has departed.
Learn More about Key Person Insurance
If you are running a corporation, you would already know the function of a Buy-Sell Agreement; it can be looked at as a legally binding contract that states how the shares of a business partner would be segregated or reassigned in the unfortunate of them passing away. Other circumstances that can come under this contract can be the partner leaving the business or being physically incapable of not continuing with the business. Our team can help draw out a buy-sell agreement Insurance that can also stipulate the available shares to be sold to the remaining partners.
Learn More about Buy-sell Agreement
Adding your employees to Group Insurance is a great way to reduce attrition in the company, retain employees and reduce absenteeism as well. You can keep your employees motivated and be more productive. You can connect with our team to start with the paperwork; we will be more than happy to serve you.
Learn More about Group Insurance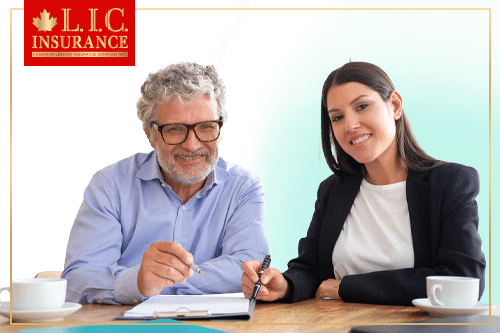 Our team can help you with estate planning as well, and we will see to it that your wishes are carried out and your loved ones are taken care of.
Learn More about Estate Planning
Investment plans as well
Investment has always been the perfect vehicle to increase wealth, and we acknowledge that. That's why Canadian LIC offers several investment opportunities for small business insurance needs as well.
Whether you are a new parent or the mum/dad of a teen, you would want your children to receive the best education in the country. However, with rising education costs, that's becoming more and more difficult by the day. That's why the federal government introduced the RESP scheme, where you can put away funds for your child's higher education. The contributions are tax-free, and you can accumulate up to $50,000. Additionally, the government will also match 20% of your contributions. You can find out more about RESP by getting in touch with us.
Learn More about RESP- Registered Education Savings Plans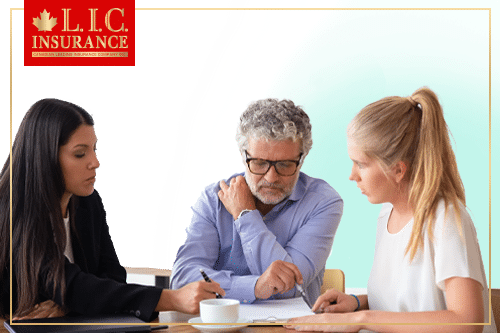 Tax-free saving accounts are great if you want to shelter your hard-earned cash from the Tax department. You can contribute a certain percentage of your annual income to this account and see it grow over time without being taxed for it.
Learn More about Tax-Free Savings Account (TFSA)
RRSP or Registered Retirement Savings Plan can be the ideal savings vehicle for you to start saving for your golden years. With this policy, you can be financially independent when you have retired from your day job or business. You will have the option to withdraw before as well, in case you need funds for any type of emergency.
Learn More about Registered Retirement Savings Plan (RRSP)
Your Personal Kitchener Insurance Brokers
At Canadian LIC, we understand that it's your hard-earned money that you are investing in any insurance plan. That's why we always go the extra mile to get you a good deal when you're buying a policy. Starting from ensuring that the premium rate is at a low to overseeing that you get high returns as well. Connect with our team members for any insurance quote, and we can advise you on what type of policy would suit you the best. Based out of Kitchener, we serve both large and small business clients across the region. Book a consultation today and discuss your needs with us. We provide commercial insurance solutions through different insurance partners with affordable coverage!
At Canadian LIC, we offer personalized service and multiple insurance options to our clients. Let our team help you with your insurance needs, book an appointment today!
Call us at 1 844-542-4678 to request a free quote or apply online!